Central Station Monitoring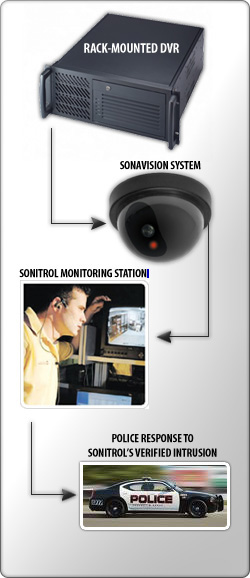 security cameras with Digital Recording and Central Station Monitoring
Sonitrol clients now have the option of allowing our Central Station to view your CCTV cameras after hours to dispatch police upon detection of unwanted activity.
All security cameras involved in the system are calibrated to cut down on unwanted triggering of the system. Upon activity detection, the DVR begins sending video to our Central Station. There, trained operators view the video and dispatch police to the scene if necessary.
No purchase of additional equipment is necessary; your DVR is ready for camera monitoring out-of-the-box. All video is transmitted securely over the internet.
Typical Applications:
Parking lots
Storage tanks (Anhydrous)
Outdoor (truck/equipment/tool) storage
Fence lines
Entry doors and gates
Sensitive inventory areas
Server rooms
Get a Free Quote
CALL 888.510.2001 OR FILL OUT THE FORM BELOW.